Ideal
I do not want a woman now
who I will love forever,
yet possess without endeavor.
I do not want gifts,
the many hungers that I yearned
that will come to me unearned.
I want the pleasure of a mating
where we both will lend
wonders until they end.
I want a song of give and take
that flames in us a day, or longer,
and when it dies, will leave us stronger.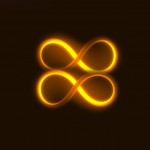 "Eternal Love"
Original art by Amasarac