The Player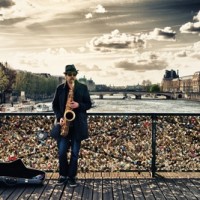 From under a bridge I crossed came a most beautiful sound. I stopped, put down my guitar, listened entranced. I climbed down the bank to see who was the player. A man my age stood next to a pylon, eyes closed, swaying his saxophone. When the song had finished he opened his eyes. I clapped and smiled.
He bowed, "thank you, thank you."
"You're too good to play alone," I said, "come join my band, we're practising soon."
"I don't play alone," he replied.
Behind him sat a young girl, crayons and colouring book in hand.
"I play for her."

Artist – Pont des…   Philippe …   Buy This at Allposters.com