To the Young Poet
We are the sons of lesser men
the gradual heirs to decline,
in a crumbling world that now and then
sires a voice that does not whine.
The things we learned are feared and hated,
hard-veined hands didn't show the way,
our youthful lusts ignored or sated
instructed, pampered, or whipped each day.
But in mysterious fashion we survive
and build the little universe we know
and with each remembered particle we strive
to bury lost regrets, and in the future grow.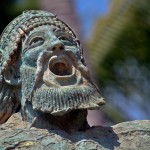 Nezahualcoyotl – the Poet King of Texcoco